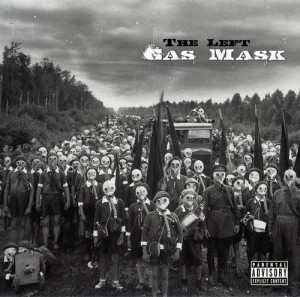 INTRODUCTION


For the past couple of months, it seemed like every hip-hop blog I would venture to would be pimping The Left's

Gas Mask

as the greatest thing since sliced bread, and Internet heads unanimously ranked it as one of their top albums of 2010. Well, obviously, I just

had

to see what all of the fuss was about and if

Gas Mask

was actually worth all of the attention it was getting. After listening, I have come to the conclusion that it was. For sure.

The Left is a trio composed of rapper Journalist 103, producer Apollo Brown, and DJ Soko. The group's style is certainly familiar, as the rap game has seen many similar collectives recently (like Diamond District, for example). Apollo Brown somewhat parallels 9th Wonder, as he specializes in boom-bap production by using soul samples and throwing some hard-hitting kicks and snares over them, and such instrumentals suit Journalist 103 perfectly.



Gas Mask

is a relatively long album, spanning 17 tracks, most of them being full-length (there are no skits on this project; thank

God

). A fairly consistent vibe is maintained throughout, and, judging from the extraordinarily creepy album cover, it is not the type of vibe you would expect.

I've gotta be honest with you: when I first saw the album artwork, I immediately thought that this would be an extremely dark and depressing record full of twisted and demented lyrics (I could have just said that I anticipated a horrorcore album, but whatever; more text makes the blog look nicer). Fortunately (as I am not a fan of that brand of hip-hop),

Gas Mask

is nothing like that at all.

TRACK-BY-TRACK

1. Change
This is technically an album intro, but Apollo Brown's beat (that only lasts for a short while) is so phenomenal that I just

had

to point it out. This sets a great tone for the rest of

Gas Mask

.



2. Gas Mask


Apollo Brown throws on some

banging

kick drums over a soul sample full of blaring horns and an almost eerie vocal sample. Throughout the track, Journalist 103 expresses his displeasure with the current state of the rap game and how he is different from the rest of the, um, sell-outs, I guess? While an unknown underground rapper knocking the industry may seem cliché, Journalist does it very,

very

well. Nice cut.



3. Frozen


You wouldn't think a group as obscure as The Left would be able to snag a guest artist like Kool G Rap, but, nevertheless, the trio was able to do so. Funny thing is, I discovered that Journalist sounds an awful lot like Kool G from listening to this song. As far as the track itself goes, it's solid, as Apollo Brown's instrumental is pretty standard and fits both rappers well.



4. Battle Axe


And here I thought the drums on "Gas Mask" knocked; Apollo Brown takes banging drums to another level on "Battle Axe." Journalist 103 pulls his best Chino XL impression over the

sick

beat, spitting about how dangerous he is on the mic and how you simply do

not

want to challenge him. A guest artist named Mu drops a verse, as well, and I found his "you just witnessed your own funeral" line to be particularly

ill

. This track is crazy good all-around.



5. Binoculars


Apollo's production is slightly awkward, but in a good way. The instrumental contains a lot of different sounds, but they all blend in nicely so the beat does not come across as too "busy." The kick drums are fairly subtle compared to the first three tracks (although that snare

bangs

), and some more blaring horns and vocal samples make up the rest of the cut. Overall, "Binoculars" is actually really smooth, and yes; I realize I just contradicted my first sentence.



6. How We Live


This

bangs

. Everything about Apollo's beat is sick, and even though Journalist severely outshines guest artist Hassaan Mackey, Mackey is still able to hold his own and put forth a solid performance. Also, at this point of

Gas Mask

, I am beginning to realize why I like Journalist 103 so much: because he sounds a bit like Sean Price, both in terms of his voice and his delivery.



7. Chokehold


Will the bangers ever end? "Chokehold" adds to the ever-growing list of

ill

cuts on

Gas Mask

, as Apollo Brown drops some more heat, consisting of yet more deliberate drums (I particularly like how Apollo uses two different snares, something you don't see very often), loud horns, and a pronounced vocal sample, for Journalist. Guest artist Paradime also pitches in, and he

rips

it.



8. The Funeral


By now, I feel like calling a song a "banger" is getting too repetitive, so I'll just say that "The Funeral" is

damn

good by all accounts. Apollo's crawling beat provides an intimidating backdrop for Journalist 103 to drop his braggadocio rhymes over. The hook on this cut is sick, too. Oh, and remember that Sean Price comparison I made earlier? Tell me this beat isn't tailor-made for P.



9. Statistics


This is the first song on

Gas Mask

that I wasn't too fond of. Journalist sounds great, but Apollo Brown's beat is pretty meh, and that vocal sample on the hook is just annoying. Plus, I wasn't too crazy about female rapper Invincible's contribution. Oh well. No such thing as a perfect album, right?



10. Real Detroit


I didn't mention that The Left is from Detroit earlier, but now you know. Anyway, this sounds

fantastic

, as Apollo brings some more booming drums and an ominous vocal sample to complement Journalist's grimy style. A guest artist by the name of MarvWon drops a verse, and it sounds like he's trying to do his best Joell Ortiz impression. He adds a nice touch to the song, which is one of the album's best (and that's a pretty significant commendation).



11. The Melody


This is the best song on

Gas Mask

;

period

. I have always been a sucker for love raps, and "The Melody" is no exception. As a matter of fact, it might be one of my favorite love raps

ever

. Apollo Brown's beat, which possesses an unbelievably soulful vibe, is

phenomenal

, and he makes excellent use of the vocal sample. I also dig how Journalist lets the vocal sample finish his sentences on the hook (even though I realize that that is a relatively common thing to do in rap). Great,

great

song; one of the best of 2010.



12. Reporting Live


"Reporting Live" features the second-highest-profile guest on the album: Guilty Simpson, and, if you've heard Guilty Simpson before, you would already know that his style would mix with Journalist 103's like peanut butter and jelly, and that is what happens here. Unfortunately for Journalist, though, Guilty Simpson steals the show on this cut (which features some outstanding production by Apollo, by the way). That's not to say Journalist doesn't shred this, though, because he does.



13. Fooled For Thought


This is the shortest song on the album, and that's extremely unfortunate, because "Fooled For Thought" features some of Apollo Brown's best production work on

Gas Mask

, and, based on my review so far, that's obviously saying a mouthful.



14. Desperation


One thing really stood out to me about this track, and it isn't good: the audio quality of the vocal sample on the hook is awful, as it just sounds piercing and very unpleasant to the ears. However, Apollo's beat is solid overall, and Journalist spits some great lines.



15. Caged Birds


Unfortunately, Apollo's vocal sample almost drowns out Journalist 103 and guest artist Finale throughout the duration of this record, and after a while, the vocal sample just becomes irritating in and of itself. On top of that, one of the snare drum hits during the loop is very off-beat, and while I understand that was intentional, it just doesn't work. As a result, "Caged Birds" turned out to be one of the weaker tracks on

Gas Mask

.



16. Homage


The Left composes a track to honor those whom we've lost, and it sounds great, even though I

hate

it when people (like guest artist Frank West on the hook) pronounce the "h" in the word "homage," even though it is technically one of two correct ways that you can say it (I've obviously always preferred the silent "h" version). Anyway, Apollo's instrumental is appropriately somber, and Journalist delivers some touching rhymes about lost loved ones.



17. Get In Where You Fit In


It's not very often where you can say an album remained consistently dope throughout and did not tail off or suffer any noticeable lulls at any point, but that is the case with

Gas Mask

, as Apollo Brown lays down another terrific beat on "Get In Where You Fit In" for Journalist 103, who obliges with some exceptional rhymes, some of his best on the album. Great way to end one of the best albums of 2010.



FINAL THOUGHTS



Well, the blogs were right:

Gas Mask

is a work of art and was certainly one of the best albums to grace the hip-hop genre in the year 2010. In 17 tracks, Apollo Brown stamped his name among my favorite producers, and Journalist 103 displayed that he is an outstanding talent behind the mic and that he is someone to watch out for in the years to come.

Everything about

Gas Mask

is flawless. The production, save maybe on two tracks (and even the beats on those tracks weren't

that

bad), never suffers a dull moment, and Journalist's rhymes are on point for each and every cut. The guest artists, for the most part, also come through with outstanding performances, and the fact that The Left was able to enlist Kool G Rap and Guilty Simpson should tell you something about the respect they already have in the hip-hop world.

Generally, when an album is this lengthy, there tends to be numerous throwaway tracks and some instances where the listener questions what exactly the artist(s) was thinking when they decided to include a particular song (or more) on the record. However, this type of query does not arise on

Gas Mask

(not for me, at least), as just about every record complements one another impeccably.



TOP FIVE TRACKS



1. The Melody
2. Chokehold
3. How We Live
4. Real Detroit
5. Reporting Live



SKIPPABLE TRACKS



None.